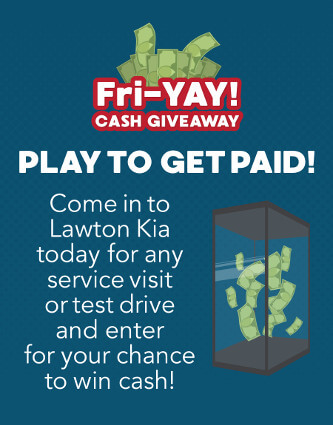 We are excited to announce the start of Lawton Kia's new monthly event, 
Fri-YAY Cash Giveaway! 
This
 event will allow customers to indulge in a test-drive or service appointment and be entered into a drawing to 
enter our Cash Money Machine!
Once a
test-drive
or
service appointment
is complete, a staff member will provide you with access to the online form, that must be completed in store.
Customers may enter once a week, but may enter every week for the entire month. At the end of each week, one customer will be selected at random to enter our Cash Money Machine at the end of the month!
Up to four lucky individuals will have their chance every month to grab as much as they can! Don't miss out!